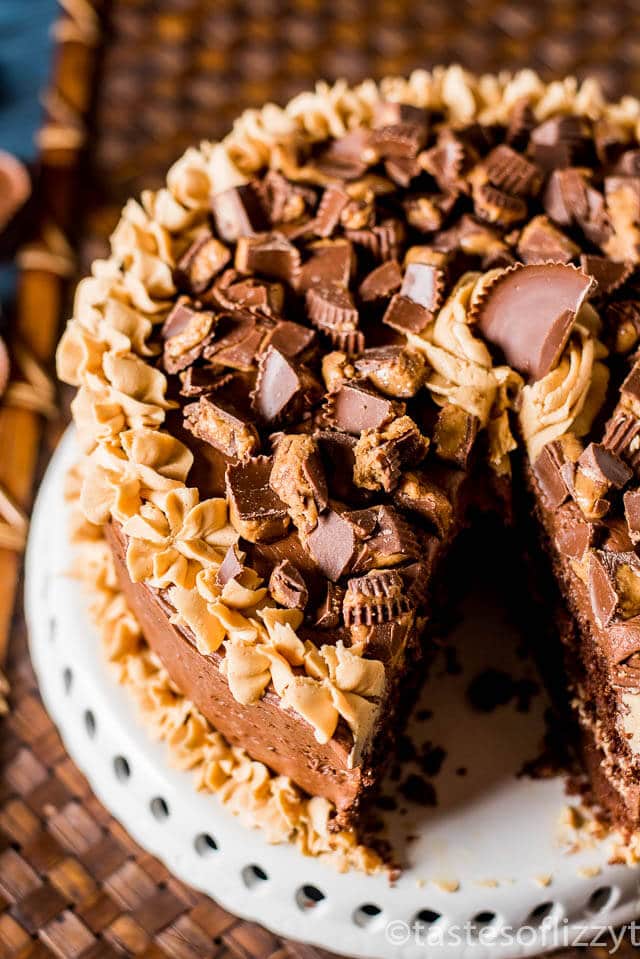 Prep Time 1 • Bake 25 mins
Servings: 15 servings
Preheat: 350° F
Ingredients
Chocolate Layer Cake:
• 1 3/4 cups all-purpose flour
• 1 3/4 cups granulated sugar
• 3/4 cup unsweetened cocoa powder
• 1 teaspoon baking powder
• 2 teaspoons baking soda
• 1 teaspoon salt
• 1 cup buttermilk
• 1/2 cup canola oil
• 2 large eggs room temperature
• 1 teaspoon vanilla
• 1 cup freshly brewed strong hot coffee
Peanut Butter Frosting:
• 1/2 cup butter softened
• 1 cup creamy peanut butter
• 3 tablespoon milk or heavy cream
• 2 cups powdered sugar
Peanut Butter Frosting Instructions:
In a bowl, blend together peanut butter, powdered sugar, butter, and milk 3-4 minutes or until light and fluffy.
Chocolate Buttercream Frosting:
• 1 cup butter softened
• 1/2 teaspoon salt
• 2 teaspoons vanilla extract
• 3 1/2 cups powdered sugar
• 1/2 cup unsweetened cocoa powder
• 4 tablespoons heavy cream
Chocolate Buttercream Instructions
In a stand mixer with the beater blade, beat the butter for 1-2 minutes until it is smooth, creamy and nearly white in appearance. Add in the salt and vanilla. Mix until incorporated.
With the mixer on low speed, slowly add in the powdered sugar and cocoa powder. Add the heavy cream, a tablespoon at a time, mixing slowly until it is the consistency that you'd like. Beat for 1 minute on medium speed until smooth and creamy.
Cake Instructions
1. Preheat oven to 350 degrees.
2. Grease and flour 2 round 9-inch cake pans.
3. For the cake, put flour, sugar, cocoa, baking powder, baking soda and salt in a bowl and mix well.
4. In a stand mixer, mix the buttermilk, oil, eggs, vanilla together. Slowly add in the mix of dry ingredients while the mixer is on low. Add the coffee and make sure everything is combined. The batter will be very thin.
5. Pour the batter into the prepared pans and bake for about 25 minutes or until a toothpick inserted in the middle comes out clean.
6. Turn the cakes out onto a cooling rack. While the cakes are cooling, make your frostings.
Decorate as desired with the frostings. Also suggested is chopped Reese's Peanut Butter Cups.
https://www.tastesoflizzyt.com/reeses-peanut-butter-cake/